What I Learned - Almost Forever by Laura Danks
Lots of gems of wisdom gleaned from this heart-breaking ultra-romantic tale...but make sure you have your tissues and waterproof mascara at the ready because I guarantee you will sob.
Just brilliant - and the book this is quoted from has just been added to my never-ending wish list! Its true for me that sometimes I feel that life is just going too quickly to fit in all the things I want to do and achieve.
What a gorgeous description of first love in particular and that moment when you just 'know', just by being close to them. Beautiful.
Awwww....so so many moments in this book that have just made me go "Awwww". *sighs deeply* It's almost enough to make someone as old and cynical and jaded as me believe again!
Oh for that feeling when it feels like everything is ahead and the whole world is at your feet...almost like you are invincible and together literally anything is possible. I remember feeling like that once (or maybe I dreamed it - more likely!)
This describes caring for someone you know isn't going to get better with the unwavering faith and belief that if you just love them enough and are there that might just be enough to change the inevitable outcome. So heart-breaking.
A great motto to live by. For some reason Donald Trump and his wall just popped into my head. How different would the world be if every single last person in it was just that little bit kinder, that little bit more thoughtful and mindful of all the other people around them. This, I believe, could change the world and the most exciting thing of all is that we can all start being that little bit more kind right now, today, right this second. Let's start a kindness revolution!
Funny how these moments often pass by unnoticed at the time, yet years later they are as plain as the nose on our face. If we thought about the fact that every decision we make today, no matter how small or insignificant they may seen at this particular moment, would shape our entire future, would you make the same choices? Are the things you are doing in the here and now taking you a step further down the path to where you want to be or the person you want to become? If not then why not? What's stopping you? Time is a-ticking people...start now!
So true they said it twice!
This sense of belonging in a place is incredible and not to be sniffed at. I once spent a random afternoon in a place, had literally jumped on the next train leaving the station with no plan and spent a couple of hours there and a few years later decided on the Wednesday I wanted a change and packed up and moved there on the Friday (now I am a parent I realise how much my parents must of LOVED my impulsiveness!). Never has a place felt so much like home to me though. Circumstances allowing I would go back in a second. On paper I think it would be fair to say that I encountered more than my fair share of, shall we say "challenges", whilst staying there, but that being said it didn't alter how much "at home" I felt in the place, didn't change how I felt about it one little bit.
Arguably one of the greatest proposal speeches ever written. A true goose-bump inducing moment!
Let's just stop and think about the truth of that last sentence. "I didn't know if I could trust him with my heart." This stopped me dead in my tracks. It's such an astute observation about possibly the main thing that holds the majority of us back, the thing that stops us really and truly putting ourselves out there because, let's face it, it is really a tough job putting it back together again when it has been shattered.
Those 3 little words. I. Love. You. And I adore this passage so much. This is what everyone deserves...someone to love them unconditionally through the good and the bad, and who will keep reminding you time and time again that they are there, without expectation, just because. Someone in it for the long haul and prepared to wait for you no matter what just because they think you are worth it. I think I maybe need to write this on my mirror as a reminder!
Another complete and utterly astute observation...in fact one of those passages that makes you go "that's so obvious but I had never thought about it like that before." Who are we really hurting by holding back?
...and if it doesn't feel like that then hold out for the one who does make you feel like that. Never ever settle.
Sometimes? Sometimes? Shouldn't that be ALWAYS?!?!?! But then that's only because you care...and life would be pretty boring and sad and lonely if we didn't care about anything enough that we were prepared to take the bad with the good (ps...on reading this back I realise that it should be pointed out that the joy should always outweigh the sorrow, the laughter outweighing the tears, and even better if the person can draw out the laughter through the tears.)
If you find this hold onto it. Cherish it. Nurture it. Protect it. It doesn't happen often.
I hope everyone gets to experience this perfect moment at least once in their lifetime - and has the wisdom to recognise it when it happens!
Such lovely words. Perfect for a wedding me thinks! Stored for future mother of the bride speech making duties (although darling daughter if you are reading this please make that a few years off yet!)
Just awwwww. Again. Better make every second count then I suppose ;-)
Very wise words indeed. Never mind sticking the wisdoms to my mirror, I think this one should be stuck to the ceiling above my bed as a reminder in the wee small hours.
What happens when you have two dreams and they don't necessarily mesh. Life can be so complicated but ultimately I guess that I believe that your gut will always tell you what to do. No matter how loud your head is shouting over it, trust that your gut is very rarely wrong. Trust yourself and follow it at all costs!
Just so flipping cute!
I have had a fairly challenging few months (probably few years if I'm honest) but I still dare to believe. I have to. That's what matters right there. There is someone looking at your life just the way it is right this moment and saying "wow, I wish I was like them." It will all turn out. (I could be totally delusional but hey, just let me roll with it!)
Arguably the second greatest proposal speech every written ;-)
This is what happens when babies come along, or new people in general. There is always, always, room for more love in your heart. As described perfectly in "A Wrinkle in Time", or indeed the Barbie Movie "The Island Princess". If I'm not mistaken there is a whole musical number about it. Do not judge me...some of the Barbie movies are pretty great and come with a great message...check one out, you won't regret it!
The perfect morning mantra. So pick yourself up and shine! What do you have to lose?
A beautiful description of the feeling when looking at a photograph of someone you've loved and lost too soon. Grief summed up.
Bubbling away just reading this again. What more could we want than someone who loved us saying something like that when we are gone? Perfection.
Back to that blind faith in our future happiness. Go with the flow...it might not be the journey you planned or ever imagined but you will still get there in the end...and the "there" you get to could be a hundred times more incredible than anything you ever could of dreamed.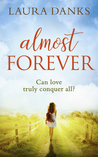 Almost Forever: An emotional debut perfect for fans of Jojo Moyes
by
Laura Danks
My rating:
5 of 5 stars
Just an utterly stunning, gut-wrenchingly beautiful novel from an author I expect many, many great things from!
I read this book in one sitting, although had to stop and pause about half way through because the tears were streaming down my face. This book is written from such authenticity and honesty it is easy to forget where you are and what is actually happening around you. The characters are built brilliantly - I feel like I know them all and that they are beloved friends. I could see every last page of this book playing out right in front of my life and felt such an empathy with the characters and the events that were unfolding round about them. The flash-back story telling parts of this book were genius, and really made for a beautiful story (the suitcase broke my heart - this is the kind of love I want for my daughter.)
Stunning, just stunning!